Hopium: When is the Next Altcoin Season?
If you think OG Bitcoin hodlers have a rough time just holding their bitcoins since 2013 and enduring those 70 - 80% plus or minus losses market cycle after market cycle (in the end, they are up 100,000%), you have another think coming. Holding altcoins is a lot worse and most of what altcoiners think will be the new paradigm years ago has been long gone and buried.
Holding altcoins is much much riskier and 92% plus coins you will never see again. But don't be fooled by the statistics, 80% of altcoins are stupid or scams anyway. Doing your own research (DYOR) eliminates the risk of buying these truest of shitcoins. If you study the altcoin history, you will be shock how many people were gullible enough to believe the altruistic usecases of these altcoins (me included, years ago). Anyway to sum up why many failed, it was about: unrealistic usecases, copy and paste clones, lack of talented developers, zero community, lack of funding. Any of these failures could speed up a coin's demise.
Avoid these pitfalls, you could be buying into the 8% of altcoins that won't die. Allot some portion of your crypto portfolio into the 8%, especially if the altcoin is still a microcap (under $1m market capitalization), you could possibly earn 10,000% in profit.
What is Altcoin season?
An altcoin season is something that altcoin crypto traders look forward to. The exchange where most of the altcoin trading happens is currently in Binance. It used to be in Poloniex, Bittrex, Cryptsy (dead, owner exit scammed) and Mintpal (dead, owner exit scammed). Altseason is a period where all cryptocurrencies other than bitcoin exponentially grow in value. From large market capitalization to small capitalization, these coins can rise anywhere by 100% to 10,000%.
Charts
There were three major altcoin seasons that happened: The first started in October, 2013, the second was in July, 2014 and the last altcoin season started in December 2015. The first chart below wouldn't make much sense without charting the total market capitalization of all cryptocurrencies, Bitcoin included. The second chart which is the total marketcap of all coins is heavily influenced by Bitcoin price action since it is acting like the index of all things crypto, much like the US dollar is some sort of index of all fiat markets. Both USD and BTC are the most liquid of their respective market types. They are the go-to markets, if you will. So, the analogy is; Bitcoin is for the crypto economy, while the US dollar is for the global economy.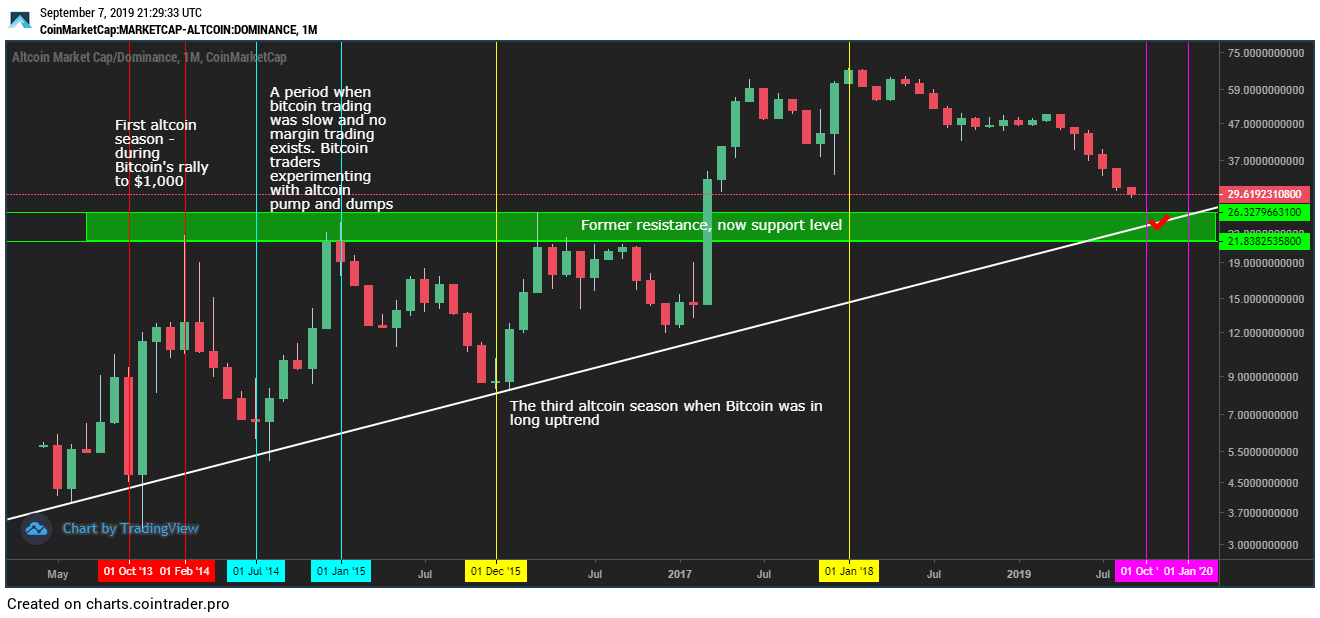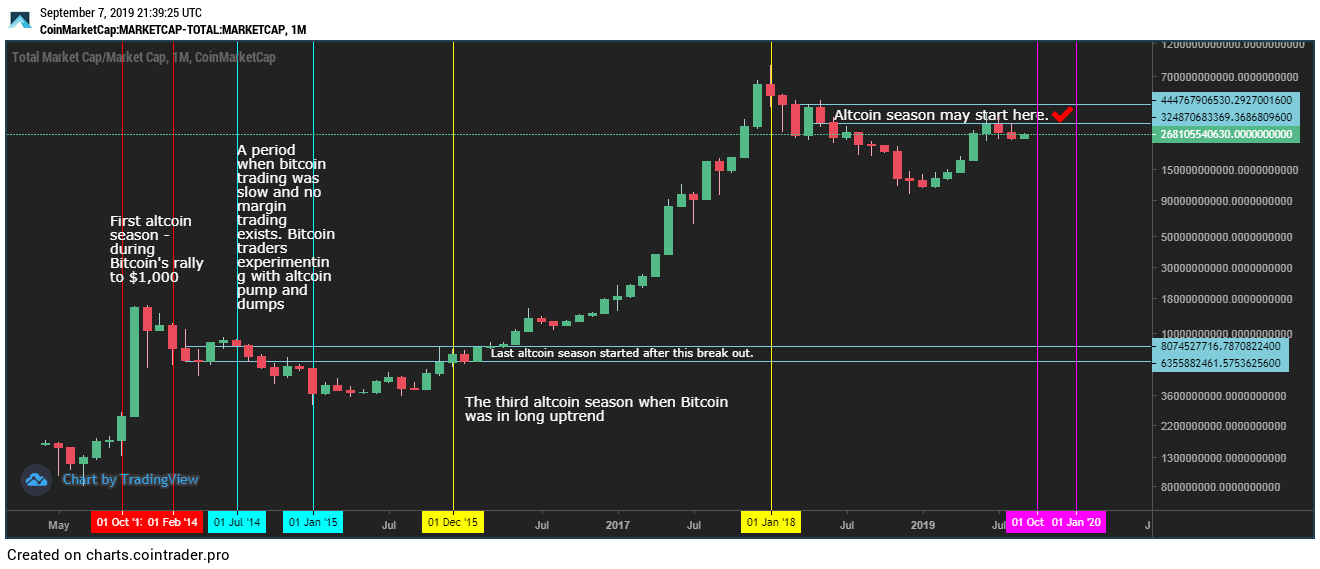 Conclusion
Based off the charts, an altcoin season starts when Bitcoin is in an obvious bullrun. Just check out the start and end periods, how they line up perfectly to the rise of the crypto marketcap. A Bitcoin bullrun happened on the first and last season, the second one was a fluke, because it was probably the Bitcoin traders who were mainly responsible since Bitcoin margin trading was still largely untrusted. Okcoin launched their leverage trading platform in June 2014.
Why during an uptrend? I'm guessing it's new money, new believers wanting a repeat of Bitcoin's phenomenal rise.
I'm thinking around October 2019 to January 2020, a new altcoin season may start. But only if Bitcoin starts to break $14,000 resistance levels or maintain this price as a support level after breaking it.
The idea that altcoins can't go up because there are no new market participants in altcoins is absurd. Do you really think Ma and Pa will buy a shitcoin because it's down 95%? No, they'll buy a shitcoin that is up 1000% because their friend doubled his money with it. - CryptoDonAlt